+ Posted on 2015
YKK and the Real Madrid Foundation Bring Happiness to South Korean Children through Football Clinics
Seoul, South Korea, 5th November 2015 – YKK HOLDING ASIA PTE. LTD. (YHA) and YKK KOREA CO., LTD. have chosen to continue their collaboration with Real Madrid Foundation for the latest edition of their Corporate Social Responsibility (CSR) initiative. The aim of this program is to support the healthy growth of children via football clinics. This is the first time the event is held in South Korea and it has promised to expand YKK ASIA GROUP's dedication to local cultures and communities to underserved children in South Korea.
Since 2007, the YKK ASIA GROUP Kids Football Clinic (AKFC) has primarily focused on providing a cheerful and valuable experience to underprivileged children in local communities. So far the events have been organised in various countries across Asia, including Bangladesh, Cambodia, India, Indonesia, Malaysia, the Philippines, Singapore, Sri Lanka, Thailand and Vietnam. Recognizing the importance and value of supporting underserved communities, YHA has implemented the YKK AKFC event annually with the explicit goal of providing fun and meaningful experiences to these children.
In reference to the YKK AKFC event, YHA's President and CEO, Mr. Kosuke Miimi notes that, "This is an integral program that not only values the children, but the community. This event gives opportunities to those who normally has lesser chance at sports and brings community together to celebrate the love of football."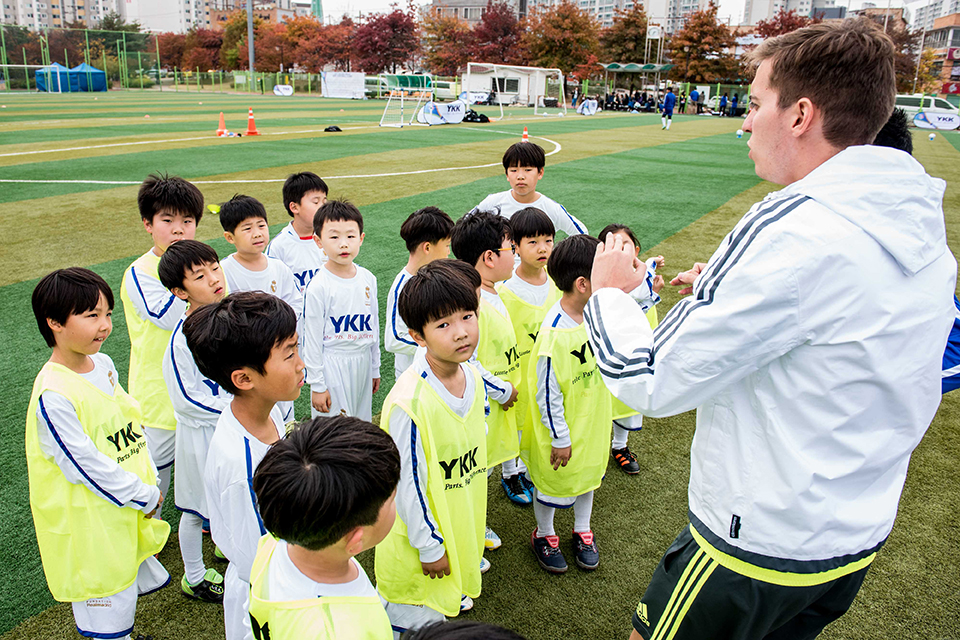 Over three consecutive days (November 5th to November 7th), 30 local coaches and more than 250 kids—most of whom are from underprivileged families — had the opportunity to meet and train with coaches from Real Madrid Foundation. By partnering with Real Madrid Foundation, YKK hopes to bring a once in a lifetime experience to the lives of underprivileged children in South Korea.
Under the direction of Mr. Luis Fernandez, Director of the Real Madrid office for the Asia Pacific region, the Real Madrid Foundation coaches will share the club's training methodology and techniques with local coaches during the initial November 5th coaches' clinic held at Goyang Stadium. Over the next two days, these same coaches assisted the Real Madrid Foundation staff in coordinating the kids' clinics to be held on November 6th at Daewha Sports Park and on November 7th at Baekseok Artificial Field. Both fields are located in Goyang City, just 30 minutes outside of Seoul.
Having run clinics around the world, Real Madrid Foundation's coaching staff brought their world-class techniques to the children and coaches of South Korea. With football as the common language, YKK and Real Madrid Foundation hope to leave a lasting impression on all participants involved, proving that cultural and linguistic differences are easily bridged through the universality of football.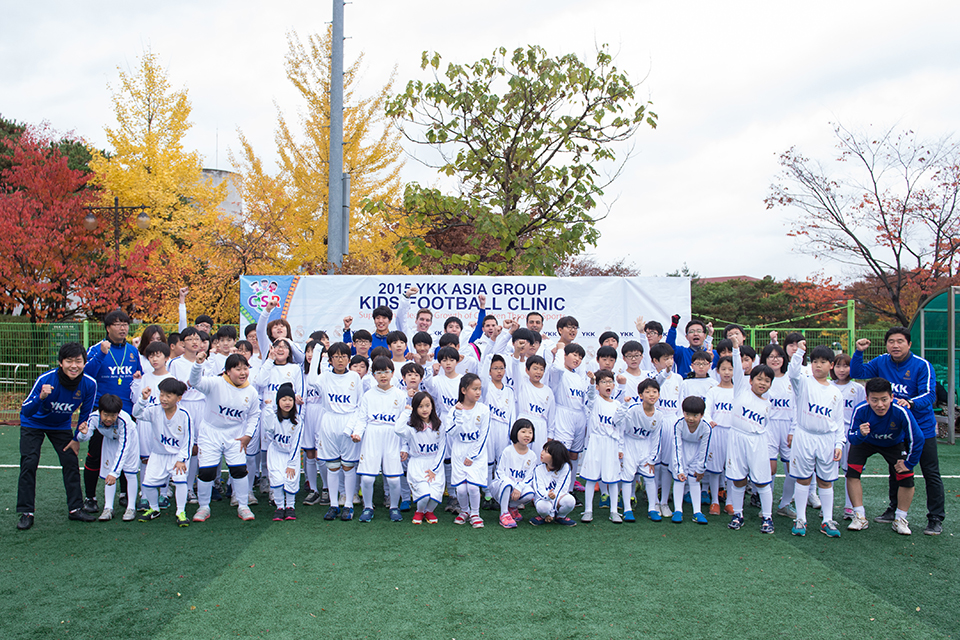 "We have successfully partnered with YHA since 2012 and have had incredible and positive experiences from the Asian countries where the events have been held. Watching the local coaches and children engage and participate in a sport which knows no language or social barriers is the ultimate reward," Mr. Luis Fernandez, Director of the Real Madrid office for the Asia-Pacific Region shared.
During the YKK AKFC, each participant received a full YKK / Real Madrid Foundation uniform inclusive of socks, shorts, and jersey. Furthermore, YKK will be funding all the footballs for the clinics and donating them to the participants' communities following the event. It is hoped that this donation will provide a sense of continuity for the YKK CSR program and encourage children across South Korea to dream and play for years to come.